Planned Network Maintenance – Planned wired network upgrade, July 13th 10am to 4pm
Monday 13th July, work on the core and network upgrade starts again, the first issue we need our engineers to look at is the issues we had with the network CORE.
So on Monday 13th July from 10am through to 4pm there will be
NO College systems at all
No servers, no networks either wired or wireless, eduroam, The Cloud will all be down inside the College, and this will affect 155 and St Giles Terrace. While some services may come online between 10am and 4pm, they could go down again without warning.
This will give time for the engineers to replace the core network switches and look for any issues as they bring each building back online one at a time. External services such as Office365 will be fine, but no remote desktop server, no website etc.
Access to Teams, Outlook and Office365 from your own computers outside of the College, or using personal mobile data networks will continue to work as normal. University resources will not be affected buy our internal downtime.
Then from Tuesday 14th onwards they will continue to replace the remainder of the network switches, and will also be going round to each building installing new battery backup devices (UPS), this will mean there will be some downtime for each building but should be no more than 2 hours all being well.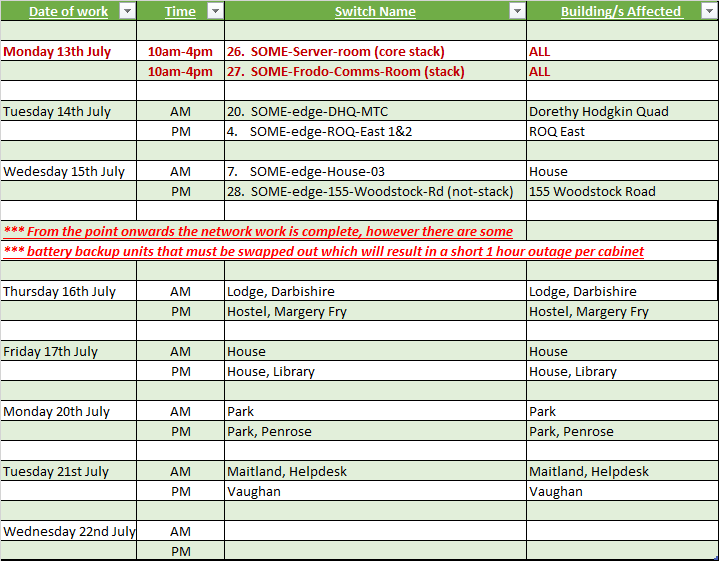 As ever please get in touch if you need to discuss any issues, 01865 270597, ict.desk@some.ox.ac.uk.