During the current restrictions, public printers in the college are not generally available and we would encourage everyone to consider carefully whether they really need to print documents.
If it is unavoidable, please follow the instructions below. Printing will be delivered to the lodge for you to collect at the following times
Monday to Friday: 10.00am, 1.00pm, 5.00pm
Please note that any printing sent without a cover sheet bearing your name, will not be delivered and you will still be charged for it.
If in an emergency you need to print something after 5.00pm or at the weekend please call the lodge on 01865 270600 to let them know what your reason is for needing to print and then use the emergency printer on papercut.
Examples of emergencies : boarding passes, copies of passports, proof of university status for purchasing travel documents, visa applications etc.
Examples of non-emergencies when you will not be able to print out of hours : tutorial submissions, essays, documents and articles for essay preparation, posters for events.
If you know you will need to print at the weekend for a thesis or dissertation submission, please contact the Senior Tutor for permission.
PRINTING GUIDE
Self-service printing facilities are available to all members of the college at: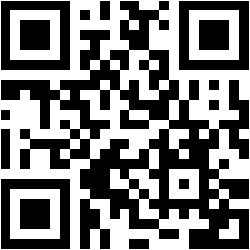 This offers mobile printing functionality, so any member of the College can upload and print documents in various formats. You can access the service with your SSO account and password, allowing you to print without the need to install drivers or reconfigure your computer.
Please include a title page with your full name at the beginning of your document.
Select Web Print
Submit a Job
Choose a printer from the available list: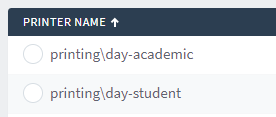 Select "Print Options and Account Selection"
Choose number of copies
Select "Upload Documents"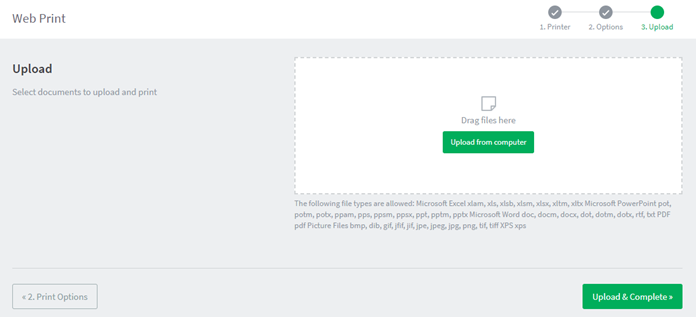 "Upload & Complete"
Your document will be printed to the selected printer and placed within your pidge for collection.