Planned wired network upgrade, June 8th through to June 12th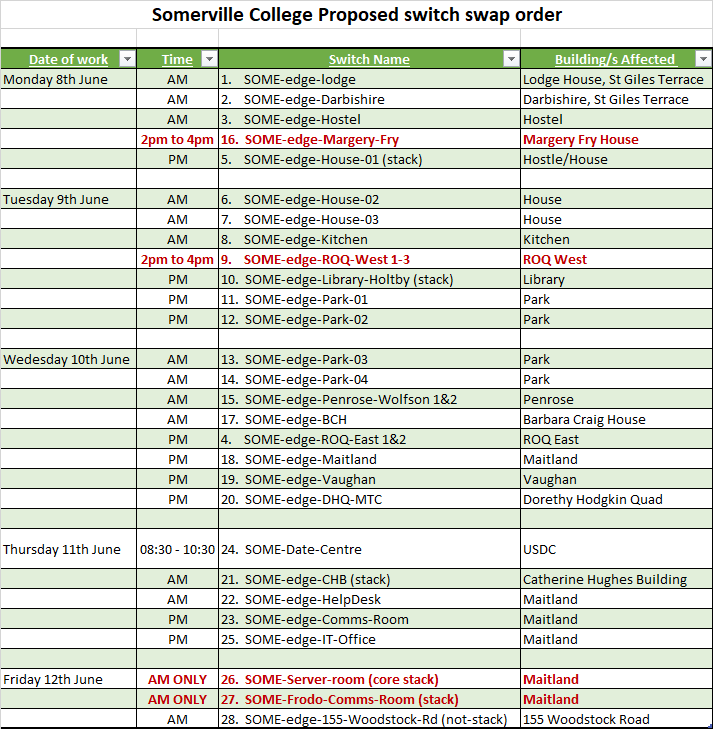 Dear all,
Just before the lock down we had placed an order to replace our physical wired network infrastructure. That work for obvious reasons the project got postponed, however we are now ready to proceed with the upgrade.
The plan is to replace the network hardware building by building, sometimes this will be two at a time if the engineers are able to work in two locations at once.
This is the final plan for next week, the lines in RED are key points that must be met by our contractors as to avoid any issues with students sitting exams.
If there are any issues that would extend the downtime we will take remedial action and simply plug the old hardware back in and reconnect all. In essence we will be removing one piece of networking kit, putting in a new one, reconnecting it and turning it on. The network will then power back up and the wireless networks (Somerville, EDUROAM, The Cloud) will pop back online.
The wired and wireless (Somerville, EDUROAM, The Cloud) networks in a building will be affected (down/offline), for the duration of the planned work in that building/area (2 hours per building/area). If you are in college please be aware of this as you will need to plan your online work around these times.
I am expecting a few hours downtime per building/cabinet to do this, we will plan for 2 to 4 cabinets per day, and will speed the work up if everything is moving smoothly.
Our Lodge Manager and Estates Manager will be managing the physical site access for our engineers, with myself and Abs assisting with the configuration and testing of the new kit.
Any questions as ever please do get in touch via email to ict.desk@some.ox.ac.uk.
Kind regards,
Chris
---
Christopher Bamber
ICT Systems Manager
Somerville College, Oxford University